Build a Strong Ministry and Connect with your Church Congregation better
Church Web Design in Kenya – Trusted by 100+ Churches Worldwide. Qodewire provides a powerful ecosystem that is designed to help you and your church reach more people for Jesus.
We help Churches Reach more People
We believe that a church website design should be more than just an online brochure. It should be a dynamic platform that engages your visitors, promotes community involvement, and enhances your ministry. 
Humanize Your Digital Worship
Whether it's planning a visit to come on Sunday morning or scheduling a meeting with a ministry leader, our web design for churches service comes packed with tools to engage your congregation anytime, anywhere.
Real-time email lead captures for ongoing communication and feature engagement
Build intentional relationships via your church website. Host online events and sermons, pray for people in real-time, and so much more!
Establish Trust and Credibility
Many church website visitors aren't ready to interact directly but want to gather information to see if your church is what they are looking for.
Media Showcase: Add multiple organized videos like sermons, daily devotionals, and much more
Events & Announcements: Provide details on recent news or upcoming events in order to demonstrate you are active in ministry
Trust & Credibility: An individual trusting your church is a critical step in the relationship development process. The following tools are designed exclusively for building trust with website visitors.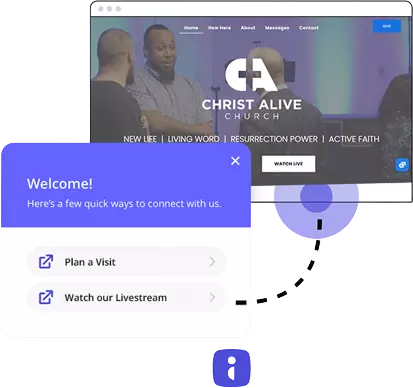 Qodewire's team of expert web designers will build your church's website using your current content. We'll slowly evolve this website as you gather more media and content.
With your website up and running, our SEO experts step in to fully optimize your website's images and content. We'll manage and build out your SEO strategy to guarantee a spot on the first page of Google.
Let us do the hard work for you!