Let's say you have created a Facebook Ad, and it has gained some good traction for the period of the campaign. But now, the campaign is over, and you want to display this same ad on your page so it appears as a normal page post. With the many likes and comments the ad has already gained, it would create a good impression on your organic page visitors. So why not?
Unfortunately, Facebook doesn't provide a native way to convert Facebook ads to page posts. In fact, Facebook ads and page posts are treated as two entirely different items. Your Facebook ads are naturally hidden from your normal page timeline.
You May Also like: Your Business Doesn't Need a Facebook Page, and Here's Why
How to Convert Facebook Ads to Page Posts
Step 1: Log into Facebook Ads Manager
Visit Business Manager, log in, and select your Facebook Ads Manager account
Step 2: Open Page Posts
Click on the hamburger menu on the left panel to open the menu options and scroll down. Under Engage customers, select 'Page posts' as shown below.
Step 3: Select the Page post and Publish
Under Page posts, first, select 'Ad posts' on the left panel. This will filter all the ads you have posted so far. You now want to select the ad you want to publish by ticking the checkbox next to it. This will open a preview window for this ad. All you need to do is hit publish and voila!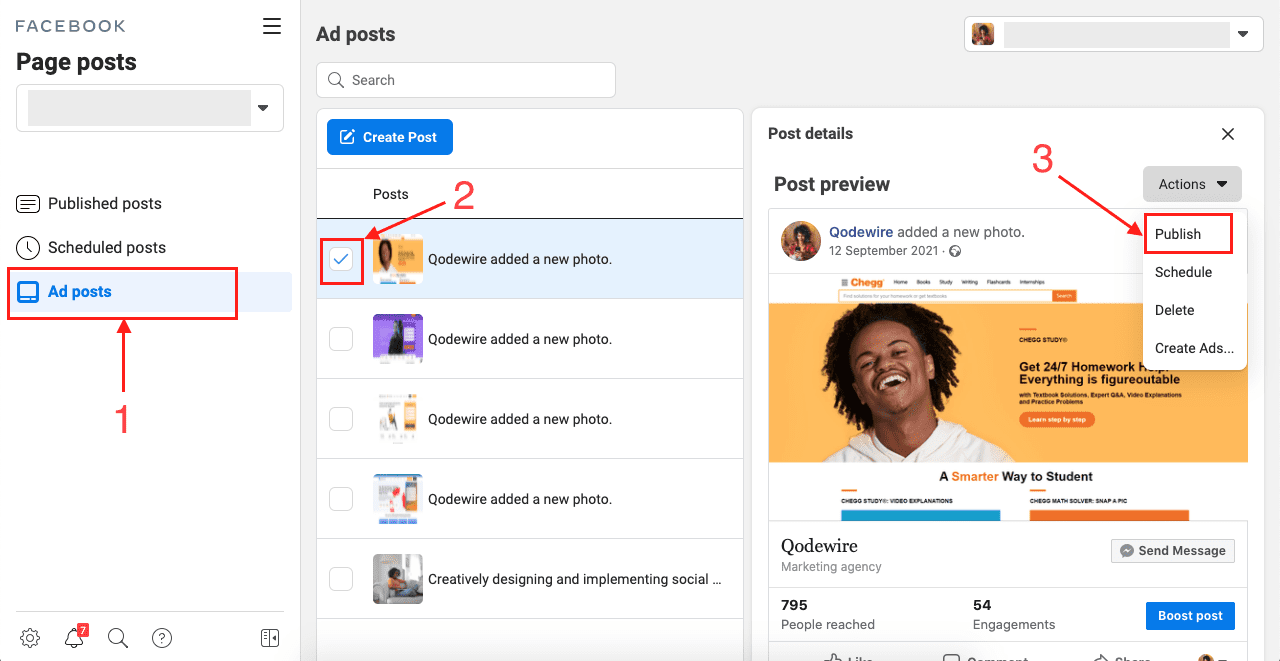 Why you should Publish your Facebook Ads as Page Posts
Converting your Facebook Ads into normal page posts poses 2 benefits. First, Facebook keeps the social engagement gained from the ad. So if you had 800 likes on the ad, the same like will be shown once you convert it into a post. This obviously creates the impression that your page content is engaging and that's a green flag to your organic users.
Secondly, if for example, you had created a lead generation ad, converting it into a page post still keeps this behavior. So when a user clicks on the page post, the lead generation form still opens. Facebook is kind enough to maintain your ad behavior even after it's converted into a normal post.